24/7 Lead Generator Bot
How can that bot help you?
<<
🤖 As a 24/7 Lead Generator Bot, I will be doing these things for you:
I will clarify by asking some questions upfront
I will check if someone is online to pick up the chat
If no one is online or not able to answer, I will ask for relevant contact details, so you can follow up efficiently
>>
How to configure that bot?
Before activating the 24/7 Lead Generator Bot, you will be presented the following options to configure.
Greeting message
Opening question
Options applicable when WhatsApp channel is configured:
Message: Linking to WhatsApp Channel
Add opt-in WhatsApp template for connecting to WhatsApp Channel
1. Greeting Message (when someone opens the chat window)
When a customer opens the chat window, he will be greeted immediately. You can configure the text of this greeting. The default greeting is "We are here to help you!"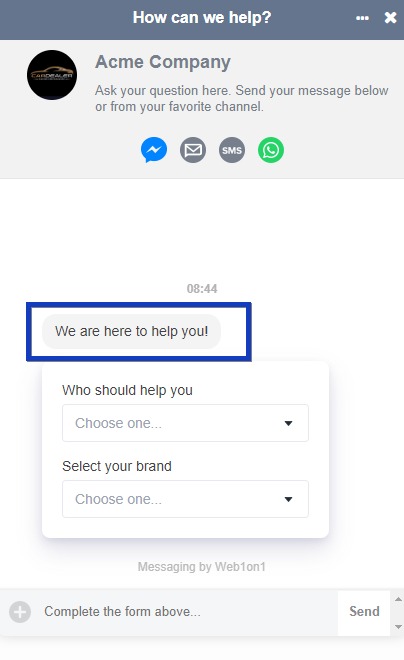 2. Opening question
After the dropdown menu question where customers can choose who they need and for which brand, a context question is asked so that the customer can specify his question/inquiry. The Default text is "What is your question?"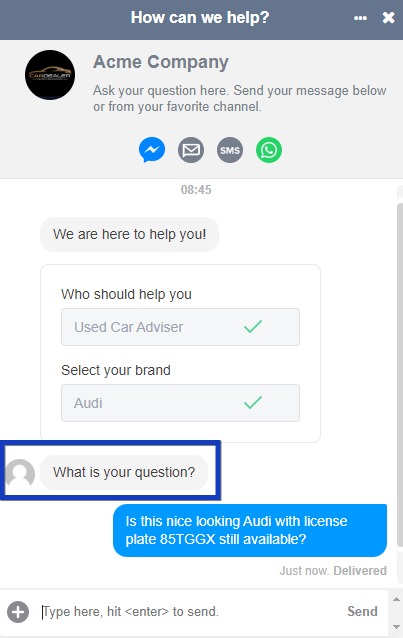 3. Message: Linking to WhatsApp Channel
When the WhatsApp channel is active in the Web1on1 Platform, customers can also choose WhatsApp as primary contact channel. They will be asked to give their phone number to establish the WhatsApp connection. The Default text is "Can I have your phone number please, so we can connect this chat to the WhatsApp channel"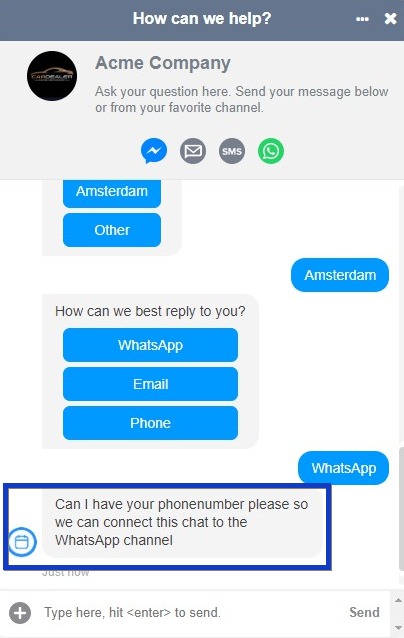 4. Add opt-in WhatsApp Template for connecting to WhatsApp Channel
When the customer has chosen the WhatsApp channel and gave his phone number, the 24/7 Lead Generator Bot can automatically send an "opt-in WhatsApp question". How to create WhatsApp Opt-in Template is explained below.
Creating a WhatsApp Opt-in Template
As an admin user, Go to the https://app.web1on1.chat -> Click in the config-wheel -> Wiki - WA Templates and click on the + button at the right bottom. 
You can use the info below to create a message or adjust to your own needs.
Name: wa_optin_message
Category: Alert 
Language: language of the message
Header: None
Content: See the examples below (you could copy and paste)
Footer: None
Button: Quick reply: Yes, I'm fine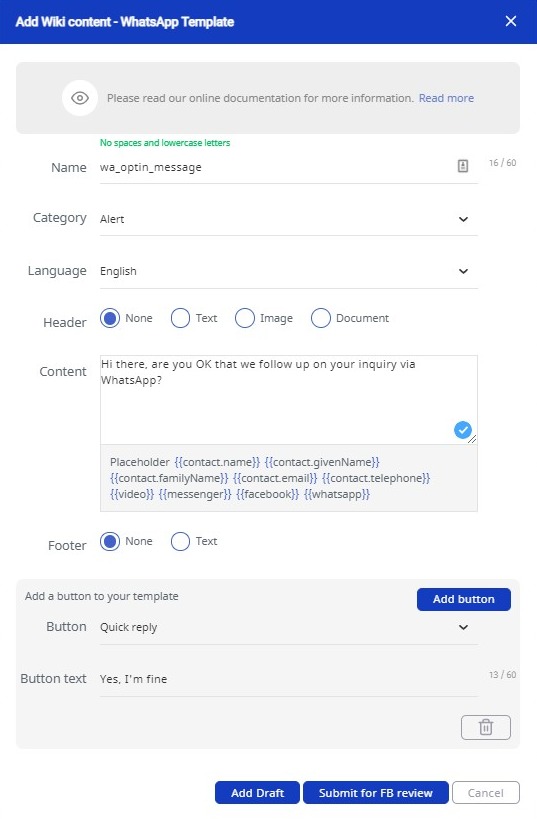 Example sentences
English: Hi there, are you OK that we follow up on your inquiry via WhatsApp?
Dutch: Hallo, vind je het goed als wij je (aan)vraag opvolgen via WhatsApp?
German: Hallo, ist es für Sie in Ordnung, dass wir Ihre Anfrage per WhatsApp weiterverfolgen?
French: Bonjour, êtes-vous d'accord pour que nous donnions suite à votre demande via WhatsApp?
Spanish: Hola, ¿está de acuerdo con que hagamos un seguimiento de su consulta a través de WhatsApp?
---
---