Data section explained
As an Admin you would like to know 
In the Web1on1 App there's the possibility to monitor (available for role supervisor and higher) for 
By opening the data section (see screenshot below) an overview of Conversation or Results is being presented.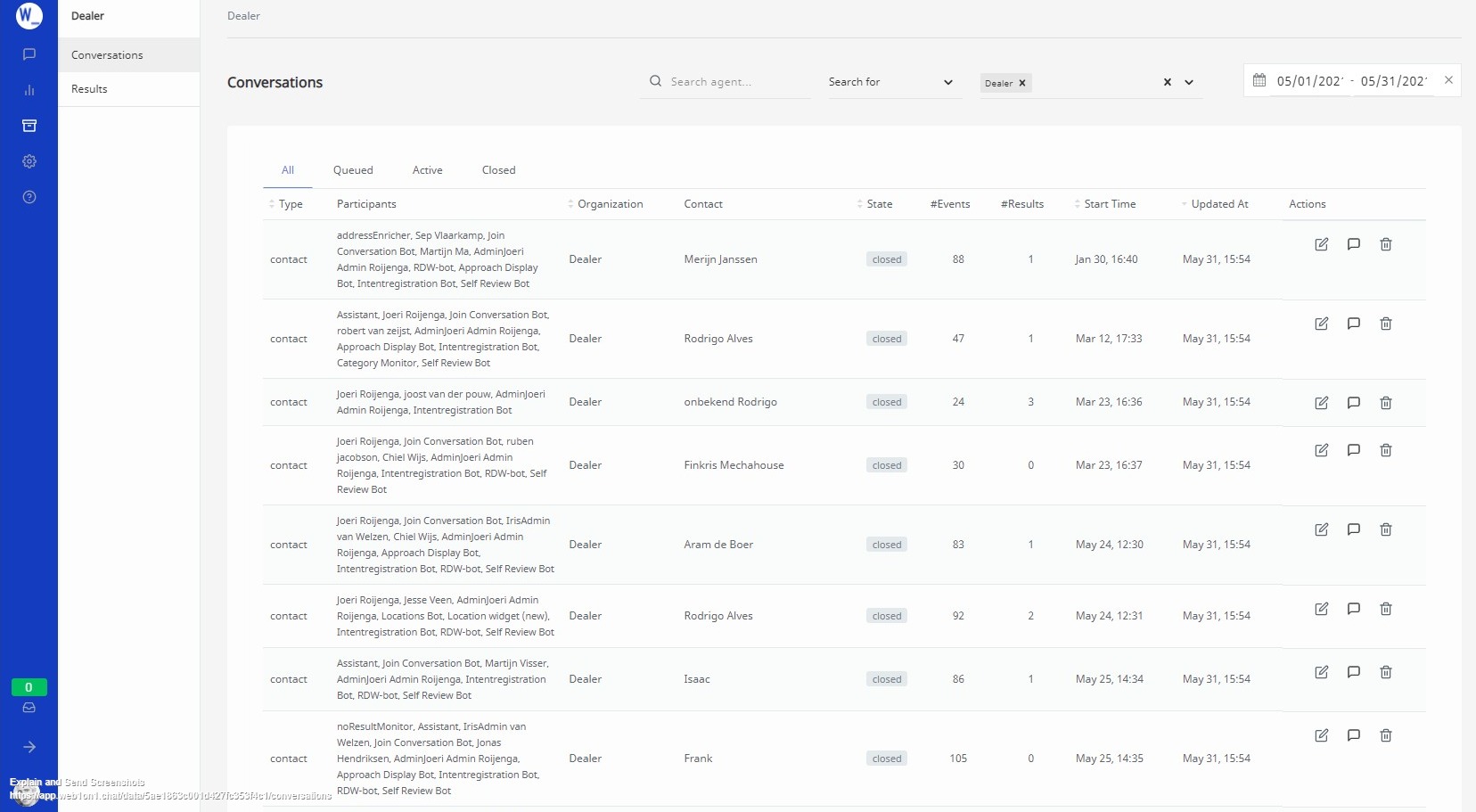 See an explanation of the below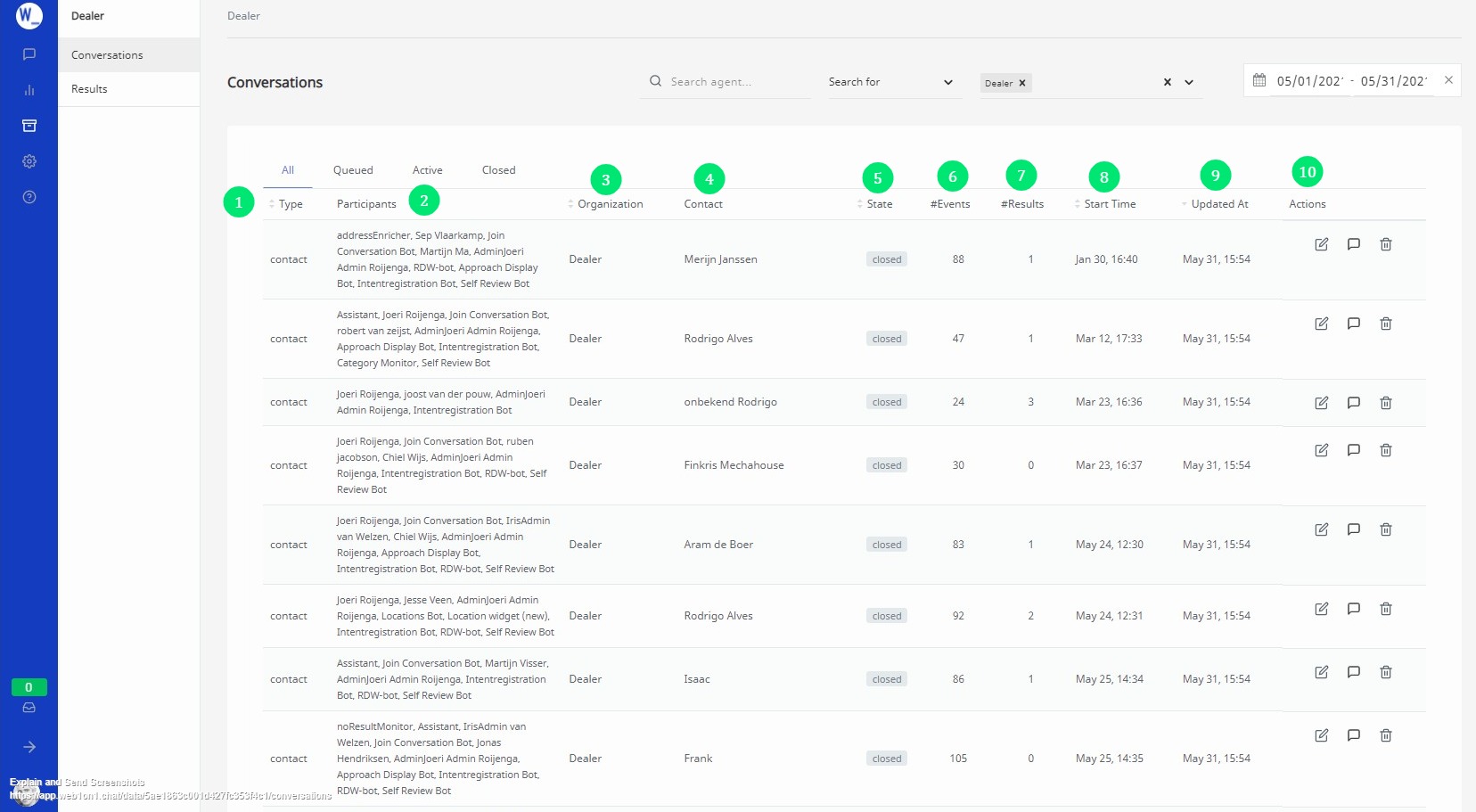 Type: Type of conversation e.g

Contact: Conversations with contact
Agent: Conversations between agents (teammessaging)
Chatbot: Conversations between agents and chatbots

Participants: All participants in the conversation will be shown here. Participants can be agents or chatbots. 
Organization: The organization where the conversation belongs to
Contact: The contactname (if known) will be shown here
State: A conversation can have 3 different statuses

Queued: Conversation is queued in 1 or more inboxes and waiting for an agent or chatbot to accept.
Active: Conversation is active
Closed: When a conversation is closed by the agent

#Events: This is a counter of the number of events. An event can be an agent or contact message but also system messages such as Accept, leave, join 
#Results: The # of results in this conversation. Since there's only 1 conversation (timeline) per contact several results such as (testdrive, service appointments) are possible within a conversation.
Start Time: Starttime of conversation
Updated at: The last time the conversation is updated
Actions:
Read conversation (slides in from the left side of the screen)
Join conversation: You will join the conversation as an agent
Delete the conversation
Filter possibilities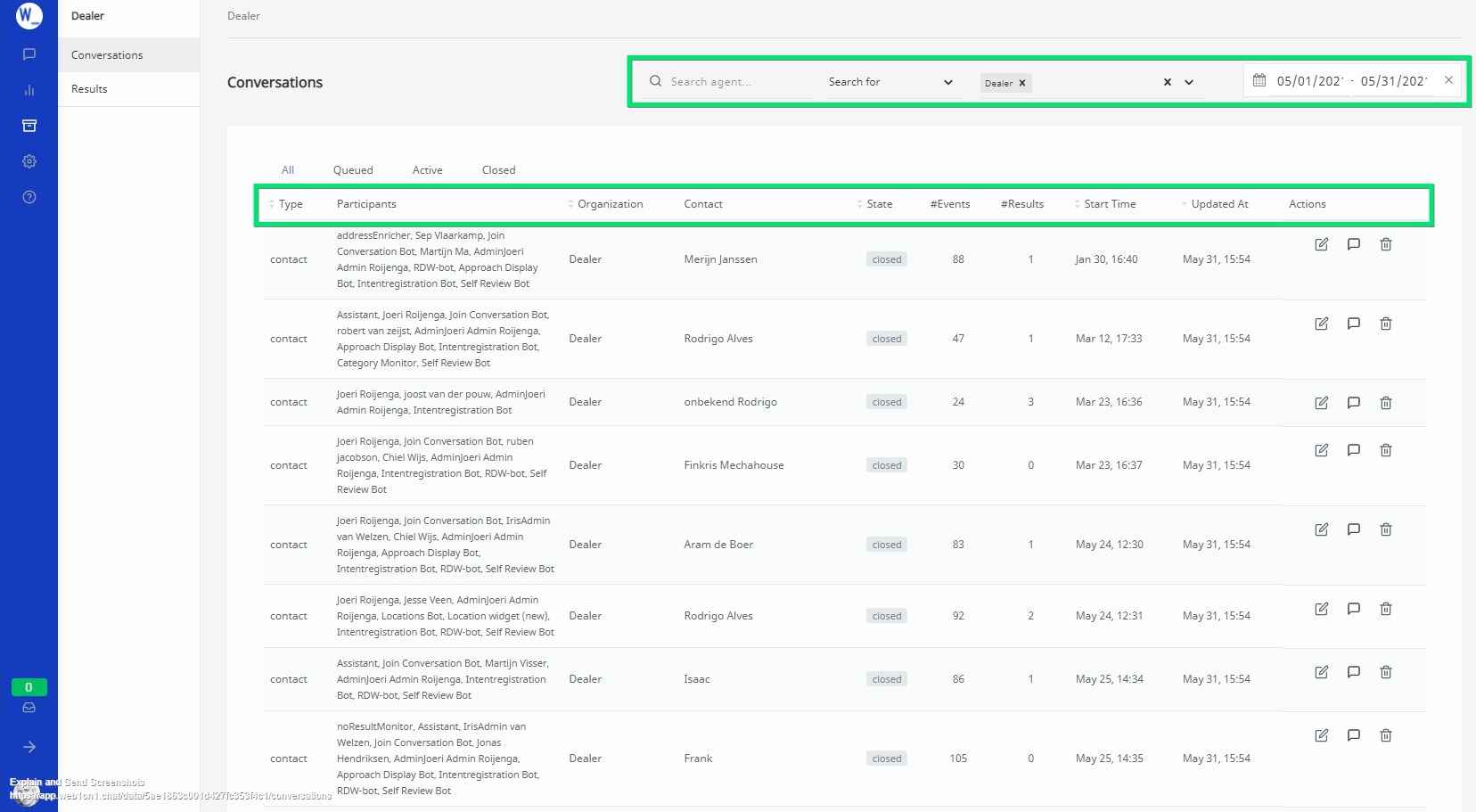 Search agent: Filtering based on a specific participant. Agent or Chatbot.
Search for: Contact, Agent or Chatbot conversations.
Organizations: If applicable its possible to filter on specific (Child) organizations (see screenshot)
Timefilter: A time filter on the "update at" field. So all conversations updated in specific time range will appear. 
Results

In this section you can see all the created results within conversations such as Testdrive, Service appointment etc.
Actions:
Read result (slides in from the left side of the screen)
Join conversation: You will join the conversation where result is created
---
---