Measuring your messaging succes
When you're All-in on Messaging becoming your #1 communication channel with your clients you need a clear set of metrics to be able to monitor your progress.
We've got you covered!
Introducing MACs
The first thing we want to track is the total number of contacts that were engaged with your organisation via any of your messaging channels month to month (aka MACs).
This the 1st graph you will see on your dashboard:

If you do not see the charts in Edge/IE you may have to disable cookie tracking prevention
Web1on1 will automatically track this number for you.
Now, although this number is interesting it does not say anything about the success of messaging in your organisation.
For that to be displayed we need to add the total number of potentially engaged contacts for your organisation. This is going to be a different number for each organisation.
Once added it will provide you with insight into the relative success of messaging within your organisation. This is what it would look like.

See how this adds perspective?
Now it is easy to conclude that we have reached about 20% of our total potential of 7500 MACs a month.
And from here we can make plans on how to grow the number of Monthly Active Contacts.
How to add the MAC potential?
Adding the canvas of the graph (aka your total potentially engaged contacts) is simple.

Head over to configuration
Select meta variables
Add: totalcontacts in the name field, add your organisation's value in the value field. Hit the [+], and save changes.
Ta-dah you're done!
Factoring in Seasonality
Pro tip: You can enter just a single number, but if you are about the nitty gritty, just like we are. You can also factor in any seasonal effects by comma separating different values.

See how this is providing even more insight?
Calculating your MAC potential
But how do you calculate the total number of potential MACs? Well, that's going to be different for every business of course.
If you're a healthcare provider then it'd be the number of patients treated in a given time frame.
For car dealerships it'd be the total number of service appointments + the total number of sales leads processed monthly.
For an e-commerce store it'd be the total number of purchases and returns.
And so on. You get the picture.
The number you arrive at is your MAC potential.
Compare that with the number of people you currently engage via your messaging channels and you can quickly see how your current customer communication experience stacks up against what today's messaging-centric customers actually want.
Messaging Engaged Employees
Your messaging success is also about adoption. How many of your colleagues are messaging during a given month (aka MEEs)?
Like with MACs, Web1on1 tracks for you and reports the number of MEEs automatically
For you to get the total picture. Add the total potentially engaged Employees to the meta variables as well.
Enter totalemployees in the Name field and your configuration in the Value field and press the plus sign
Here's what that would look like:

When it comes to adding the potentially engaged employees. Be a little aggressive here. Add your sales, service and support colleagues and some staff roles to your count. In other words, everyone handling email or phone on your organisation's behalf is a potential messaging participant.
Loading the Dashboard when working with the Edge Browser
When use Microsoft Edge you will have to disable the tracking protection to be able to see the dashboard.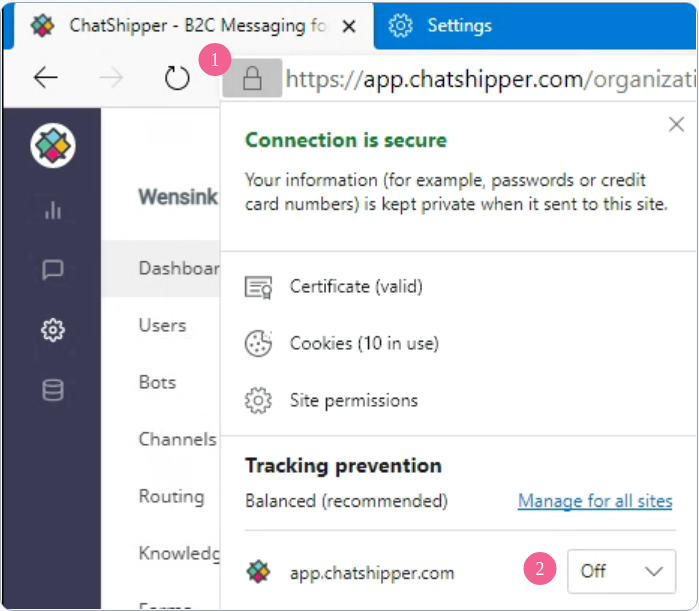 When on the Web1on1 website, click on the lock next to the url (1), then turn off the tracking protection (2). After that, reload the page and the dashboards should load.
---
---