Video Call / Virtual Showroom
Web1on1 provides a hosted Jitsi Meet environment, allowing to communicate with customers or remote team members over fully encrypted connections using TLS/SSL. Jitsi Meet itself a is an open-source video conferencing solution, providing virtual rooms with high video and audio quality for video conference meetings. Web1on1 does not process any personal data through the use of this service.
Using Jitsi Meet on Web1on1 allows you to have access to features such as:
Sharing of desktops, presentations, and more
Inviting users to a conference via a simple, custom URL
Jitsi Meet is available using any modern web browser.
Enabling Video Call for your organization
Video conferencing needs to be enabled on a per-organization basis. To do so, visit the Service Integrations section as an administrator, and add Video Conferencing to your list of services:

Starting a screenshare / video chat
Logged in on the Messenger app, click the 'Start Video Call' icon:

A meeting link will be generated that can be send to your contact.
Joining the video call
After sending the invite link, a new browser tab will open from the agent console.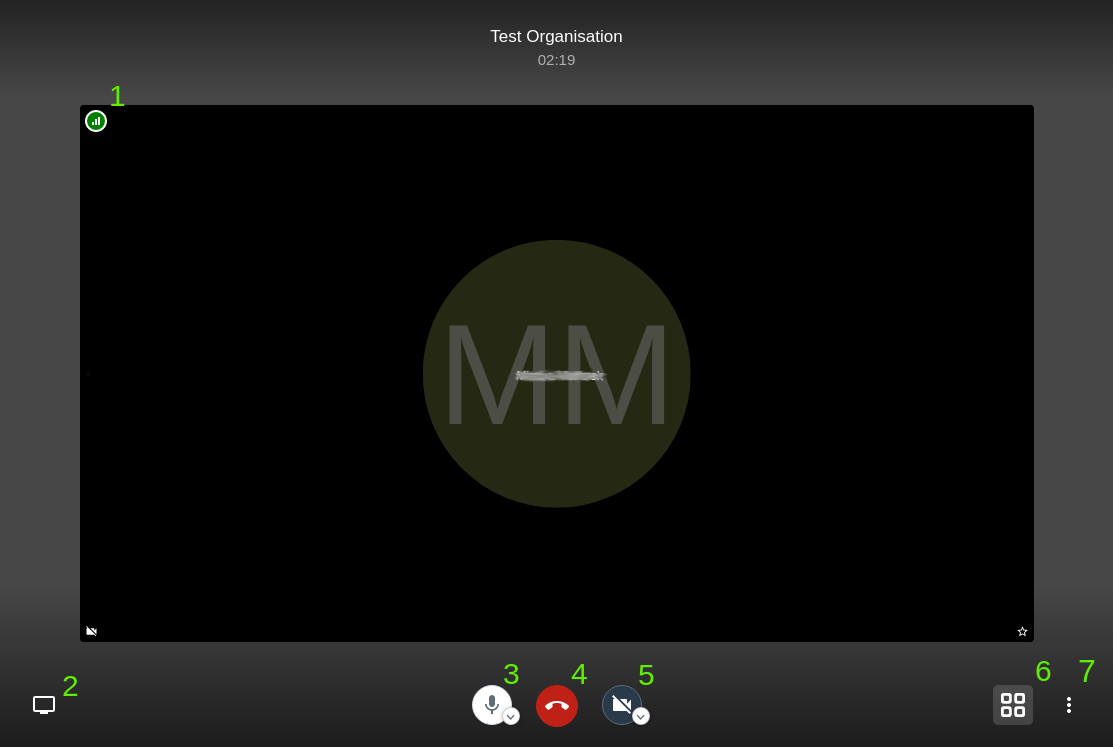 You can see the webcam capture of the person speaking in the main part of the screen if the user enabled the camera. If not (like here) you will see the initials of the person. The green numbers in the image above represent:
Connection Indicator: Shows the quality of your connection. In case the video or audio quality is not optimal or the application uses too many resources (CPU/RAM) on your local machine, you can reduce video quality.
Screen Sharing: Click on the button to share the screen of your computer with the other members in your room.
Toggle Microphone: Mute or unmute the microphone of your device.
Hang Up: Hang up and leave a conference. Other members in the same room may remain connected to the conference.
Toggle Camera: Disable or enable sharing of the web cam of your local device.
Toggle Tile View: Enable or disable Tile view. See all people in the conversation as tiled next to one another.
Menu: Contains Full Screen mode and camera and microphone settings.
Upon first connecting you may be asked to allow access to your camera and microphone for the service. This is required to be able to communicate using Jitsi. Web1on1 does not store your video or audio information and they are shared only within your conference room.
More information
For more details how to use Jitsi, you may also refer to the Jitsi FAQ. Only a subset of all configuration options of Jitsi is enabled in our video interface and therefore you will see a lot more options in Jitsi's documentation. Missing something? Let us know!
Related:
---
---