Set up guide for Google (My) Business Messages
Allow anyone to message your company straight from Google Search and Google Maps. That is what Google Business Messaging allows you to do. Connect Web1on1 and Google Business Messaging now.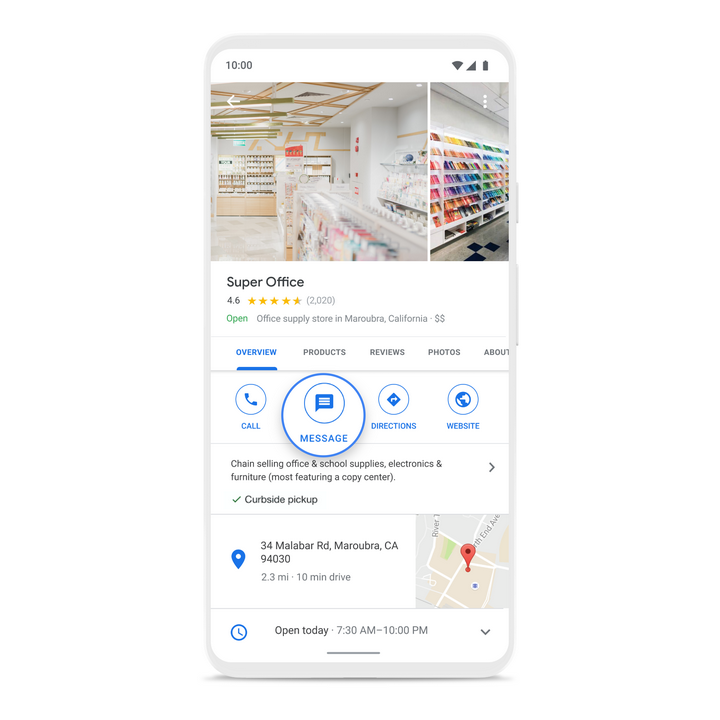 75% of consumers prefer private channels for service. Google's Business Messages helps route service phone calls to chat conversations.
How-to activate Google Business Messages in Web1on1.
Step 1 : Pre requisites
What you have to gather before you start the application process.
Make sure the following information is setup on your organization:
Your logo : For GBM make sure you upload an image that is at least 1024x1024 pixels and looks good when cropped into a circle
An activation email : This email will receive a series of Google activation emails that must be manually processed during the GBM setup process.
Add all your locations to the Web1on1 Knowledge base
URL of your companies Privacy statement
Re-used data:
We will re-use these Data that are already stored in Web1on1:
DisplayName: This will be used to setup the GBM integration:
Locale: This will be used to setup the GBM integration:
Timezone: This will be used to setup the GBM integration:
Company URL: Your brand/organization url must be present.
Make sure you have Admin rights to Google My Business when you work this process.
Step 2: Get Google PlacesID of your headquarter
You can get is from your knowledge base > Locations > select relevant Location to get the PlacesID.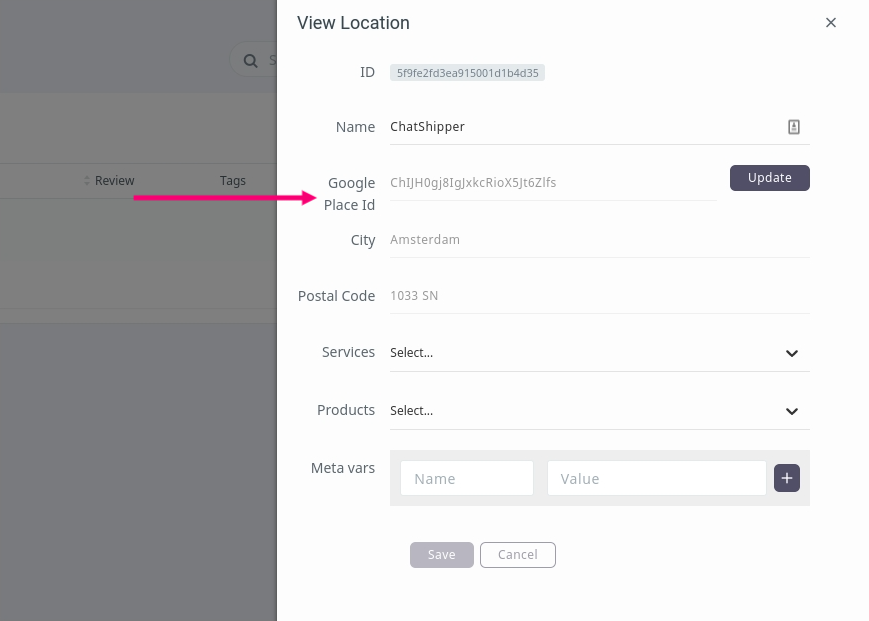 Step 3: Create the GBM integration in Web1on1
Location : Pick the location that you created on Step2
Privacy : An url to your privacy policy
WelcomeMessage : Free form text that will be displayed the first time a end user starts a conversation with your brand
Starter: Suggested started for the end user, it must be short 45 char limit
StartTime : "HH:MM" format string where the agent is available
EndTime : "HH:MM" format string where the agent availability ends
StartDay : "MONDAY - SUNDAY" starting day of the week the chat is available
EndDay : "MONDAY - SUNDAY" end day of the week the chat is available
Step 4: Verification
You will receive two emails that you must follow it instructions to verify the agent we created for you.
Once you have received the verification confirmation you can then open the GBM integration, Click verify location. You will receive two new emails follow instructions
After you verify a location, you can't make any updates to it. To make updates to a location after it's verified, we must contact google
Step 5: Create Agent
Once you have received the verification confirmation you can then open the GBM integration, Click launch agent. You will receive two new emails follow instructions
Step 6: Link Location
Once you have received the launch confirmation you can then open the GBM integration, Click launch location. You will receive two new emails follow instructions
After that you will receive a launch confirmation and end users will now be able to start chatting to your agents using Web1on1
---
---