Reporting & Analytics explained
Use Web1on1's reports to measure and understand your Lead generation, Customer engagement, and Your Organisations Messaging Adoption rates.
Web1on1's reports offer a breakdown of everything important to your business.
Whether you use Web1on1 for Live Chat, SMS, Email, FB Messenger or Whatsapp messaging. This article breaks down the available reports, and the information you'll find in each. Click the links below to jump to a specific section:
1. Standard Dashboarding in Web1on1
In the Analytics tab in your account you will find various dashboards:
Insights - measuring your messaging success of your own chat agents
Platform usage overview - how is the Automotive Messaging Platform being used
Conversion metrics - all the way from website visits to leads
Feedback report - overview of comments on conversations
(Optional) Web1on1 Agent Results -  Performance of Web1on1 Cloud Messaging Agents for your organization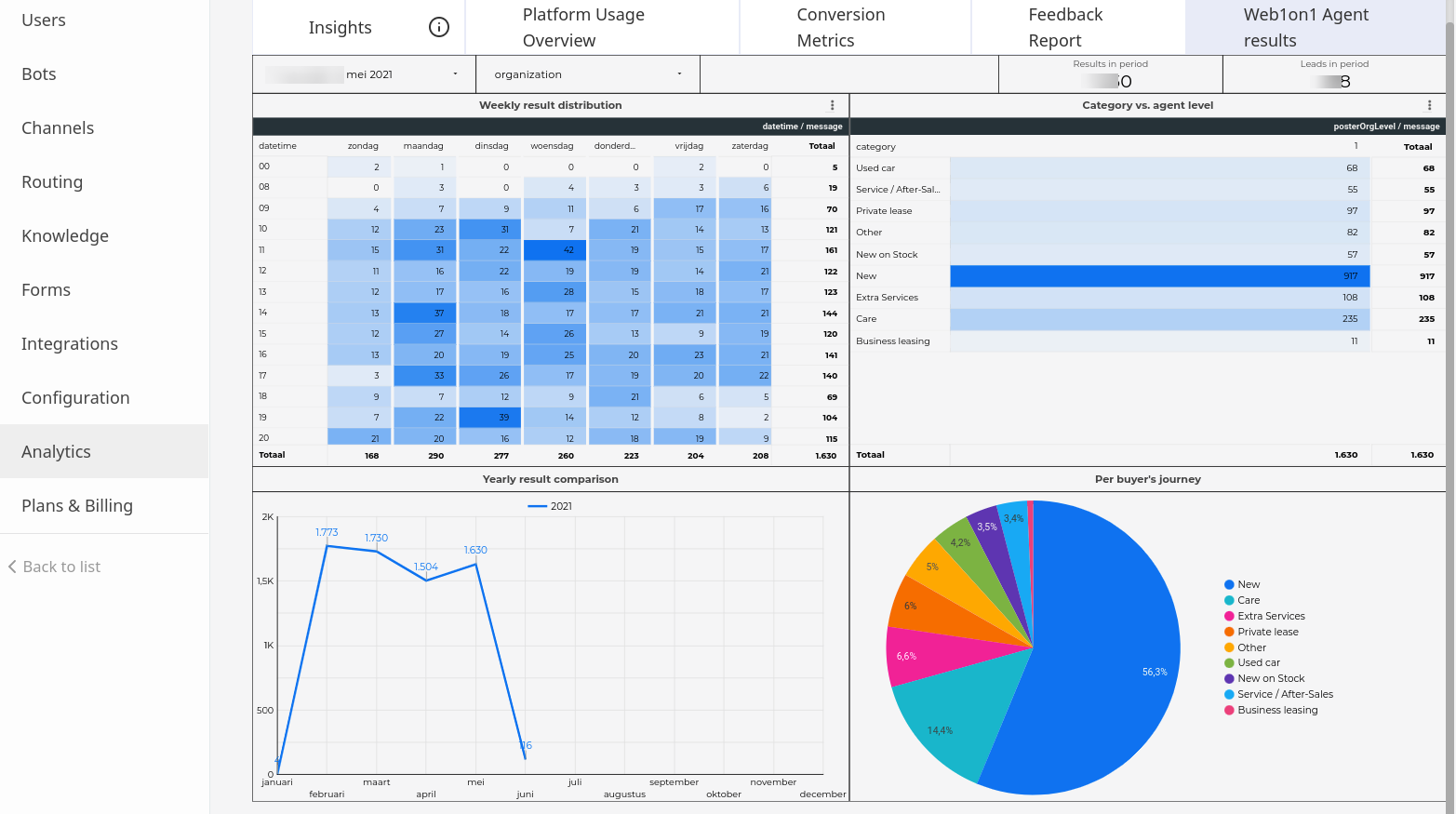 You will see the data from your account and sub accounts (if any).
See User Roles explained to learn which users can view the Analytics dashboard.
Exporting dashboard data
Each dashboard can be downloaded as a CSV file or exported to Google spreadsheets. Web1on1 regularly updates the Analytics with new metrics and insights.
The Analytics dashboard is a standard feature of our Automotive Messaging Platform and comes with the user licence fees.
Do you need more?
Insight lead to more questions, leading to more dashboards. It is impossible to answer every question with a dashboard. But we still want to cater to your needs.
There 2 options to take reporting to the next level.
1. DIY - Web1on1 Metrics API
Retrieve data from the Automotive Messaging Platform and use it for your business via our Metrics API. You will be able to integrate messaging data into your own reporting via popular BI tools like Google Data Studio, Tableau, PowerBI and others.
See our Developers Guide or jump straight to Metrics API documentation.
The Metrics API is documented at the developers site, and works using the same API credentials as other endpoints.
It consists of a basic "snapshot" endpoint, that is also used to display the dashboards numbers:
https://developers.web1on1.chat/metrics/basicmetrics/
For advanced metrics, we expose a cube.js REST API https://cube.dev/docs/rest-api
Our BI data model for advanced queries is described at:
https://developers.web1on1.chat/metrics/advancedmetricsintroduction/
https://developers.web1on1.chat/metrics/advancedmetricsquickstart/
https://developers.web1on1.chat/metrics/schemas/
The API reference contains more info on the endpoints https://api.web1on1.chat/#metrics
2. Web1on1 BI-Experts custom dashboard requests
Web1on1 BI-Experts are available to built custom reports, following this process:
You send us a short brief about which data (or better: insights) you want to retrieve and how we should visualize this;
Web1on1 BI Expert will review your request.
We set up a meet to allign expectations (a BI-Expert will be involved).
If all is well, Web1on1 will send you a quotation based on the agreed specifications. The quotation will include an estimated number of hours for development (including one review round) and a monthly fee for dashboard maintenance and subscriptions (database / BI tooling).
You agree on the quotation and Web1on1 will send you the delivery time.
Please contact us at care@web1on1.chat or via your client success manager.
---
---