Web1on1 Subprocessors
Web1on1 is dedicated to delivering you the best quality services. To ensure that we use certain Subprocessors (third-party processing tools). By subprocessor, we mean the third-party processor that we use to facilitate the delivery of our products. Web1on1 uses sub-processors and selects them according to internal high-quality standards to ensure data integrity and safety. Furthermore, Web1on1 uses a commercially reasonable selection process to choose the best and most reliable processors. It also uses:
Safeguards in-use and selection process
Web1on1 safeguards its relation with sub-processors by the contractual relationship - we sign Data Processing Agreement with each of our sub-processors - establishing data safety standards which should be at least meeting our minimum requirements used in our DPA offered to the customers. Below you can find some of the outlined standards that we require to have with all sub-processors that we appoint.
Our sub-processors shall implement and maintain appropriate technical and organizational measures (including measures consistent with those to which we are contractually committed).
Our sub-processors are from the US and Europe mostly. If we decide to appoint the subprocessor from the other country we always make sure other legal transfer mechanisms apply to such data processing.
Our sub-processors process only the data that are absolutely necessary for the purpose (and none more than that).
Our sub-processors are entitled to process personal data only in accordance with the data controller's instructions.
We require cooperation and assistance from our subprocessors when it comes to a data breach or processing of a data controller's requests.
Our sub-processors are obliged to ensure that their personnel is reliable, trained, and subject to a contractually binding obligation to observe data privacy and security, to the extent applicable by the data protection laws.
Personal Identifiable Information flow scheme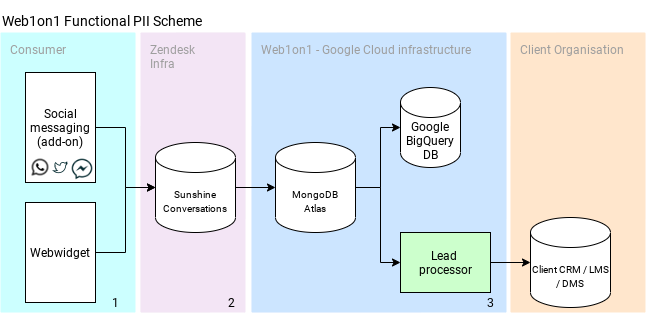 The scheme shows the flow of Personal Identifiable Information (PII).
Consumer communicating through the Webwidget or any connected Social Channel, due course of the conversation they may be transferring PII.
This information will first be processed and stored by our subprocessor Sunshine Conversations (a Zendesk product).
Next the conversation and PII is processed into the Web1on1 Google Cloud Infrastructure where it is stored in 2 Databases: MongoDB Atlas and Google Bigquery. In the case a conversation needs follow-up from the client organisation (your company) the lead processor will handle this. But in itself it does not store any PII ( it just processes it). The PII is now transferred to your organisation system (DMS / LMS / CRM).
Subprocessors
Web1on1 is dedicated to keeping always up-to-date lists of subprocessors.
Please note that this policy does not grant to customers any additional rights or remedies and should not be treated as a binding agreement but only a policy aiming to explain and clarify the process of processors' appointment.
Web1on1 appoints different categories of sub-processors that help us to maintain the product effectively and efficiently. Classification, with sub-processors listed below.
Infrastructure and storage
Web1on1 does not provide its own storage centers and uses sub-processors delivering reliable infrastructure to maintain data storage. (For more info check our Data Storage and Hosting Policy).
We use sub-processors that facilitate document storage to enable fact and safe documents signing upon customer's requests.
Web1on1 delivers it's Conversational Business Messaging Platform to numerous customers - we use CRMs to organize customers' data.
Google Cloud Platform
Database (Bigquery) and File storage through Google Platform Products
MongoDB, Inc.
Database Services.
Communication and support services
We employ tools that help us to maintain communication both internally and with our customers/trial users or potential customers.
Twillio / Sendgrid
Email services through Sendgrid product (Email-Push Services for Contact Conversation data)
Sunshine Conversations, Zendesk Inc.
Multichannel communication provider
Add-on Integrations and Services
| | | |
| --- | --- | --- |
| Entity Name | Entity Type | Country |
| Apple Inc. | Technology partner | United States |
| Mailgun | Email services through Mailgun product | United states |
| Facebook, Inc. | Technology partner | United States |
| Google Inc. | Technology partner | United States |
| Twilio, Inc. | Cloud-based SMS Services | United States |
| WhatsApp Inc. | Technology partner | United States |
---
---