Activate your personal Whatsapp link
Web1on1on1´s Whatsapp Business is great from a company perspective. But what if you want promote Whatsapp contact to your (personal) clients?
Want to add a Whatsapp option to your email signature?
Now you can!
Grab your personal Whatsapp url from your account profile.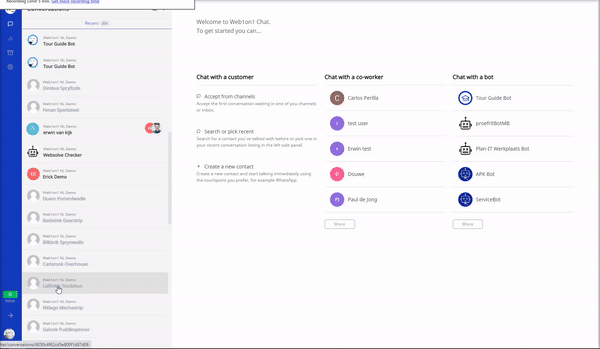 Link that url to an image in your email signature and you are good to go.
Web1on1 will make sure that any conversation started from your personal WA link will be delivered directly into your personal inbox in Web1on1. So it works just like you private Whatsapp conversations do. 1-on-1 for efficient communication.
Example button for email signature
Right click to save:

Be as creative as you can, have you designer develop a company button. Or even add your name to it.
Create personalized QR codes
Using QR codes makes it really easy for clients to contact specific sales advisors via WhatsApp. These QR codes can be used on Business cards etc.
Just click on the Copy Link in your personal settings (see video above) and create a QR code by using this URL in free tools such as https://www.qrcode-monkey.com/ and https://www.qr-code-generator.com/ Automotive Messaging Platform.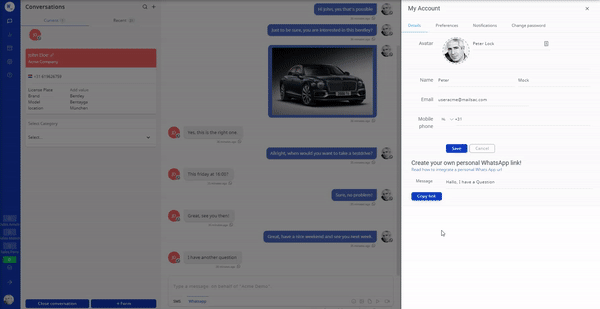 The advantage of using this option?
You are actively promoting Whatsapp communications with your company (which beats emailing and calling, right?)
Your company´s Whatsapp number will be added to your clients contact list. Making it easier for them to reach out to you in the future.
Convenient 1-on-1 conversations. To help you speed up your sales / service process.
---
---