Web1on1 Webwidget capabilities
The ChatShipper webwidget (aka webmessenger) is a highly customizable messaging widget that can be added to any web page. Web Messenger is unique in that it allows the user seamlessly move the conversation beyond the browser to a persistent channel like SMS, Facebook Messenger, or any other OTT channels.
Webwidget Capabilities
The ChatShipper Webwidget supports a wide variety of capabilities. Below is a detailed view of each capabilities.
Content Types
Text message

Full support

Image message

Full support

File message

Full support
Emoji

Full support

GIF

Full support

Location

Partial support
Indicators
Receive a conversation:start webhook event when the user starts the conversation

Typing indicator

Full support

Message Read indicator

Full Support

Conversation start

Full support
Action types
| | | |
| --- | --- | --- |
| | | |
| Link message | Webview | Reply message |
| | | |
| --- | --- | --- |
| | | |
| Postback Message | Form message | Carousel message |
Carousel
Carousels are rendered natively with full functionality in the Webwidget. See our API documentation for instructions on how to send one.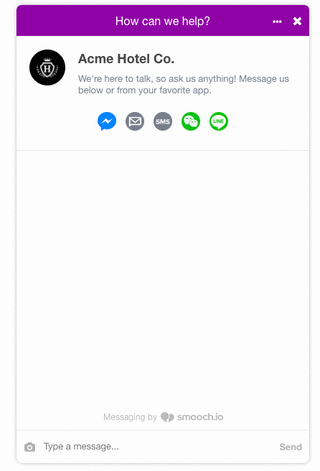 Carousel items
Carousels support up to a maximum of 10 message items. Each message item must include a title and at least one supported action. Optionally, an image and description can be included as well. Images can be displayed in two different aspect ratios, "square" and "horizontal". For more information, see our API documentation.
| | |
| --- | --- |
| Carousel items with "horizontal" images (default): | Carousel items with "square" images: |
Supported actions
The Web Messenger supports the following action types in a carousel message item:
List message fallback
If the Web Messenger receives a list type message, it will display a carousel instead.
Location
Location messages are rendered as text with a Google Maps link of the location.
Users can send location messages as a response to a Location Request, or by using the Share Location button.
Forms
Form messages are rendered natively with full functionality in the Webwidget and are a great way for you to capture user data.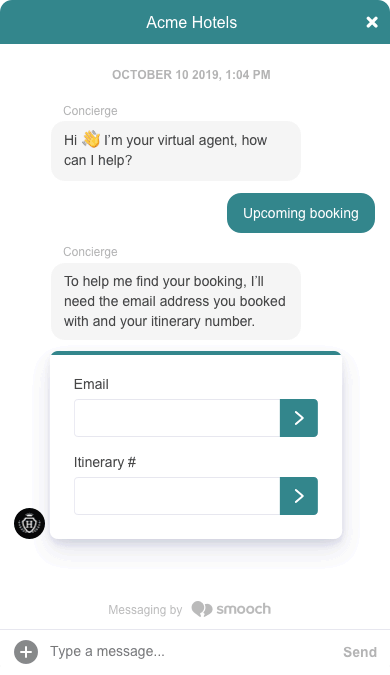 See our API documentation for instructions on how to send one.
Badge for unread messages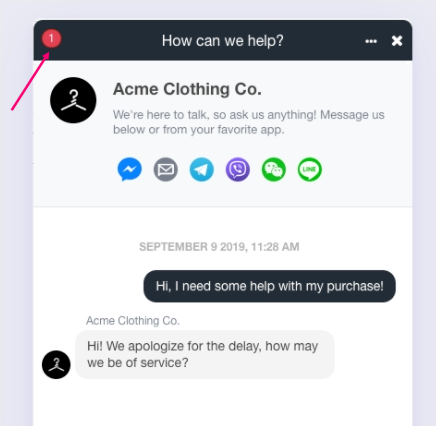 When the user receives new messages, a badge containing the count of unread messages is displayed in the header of the Webwidget if the user's view is not at the bottom of the conversation.
The badge is removed when the messages are marked as read with the following user actions:
Scroll to bottom of conversation
Focus or type in the chat input
Click on the Web Messenger header or badge
Click on the Web Messenger widget
Send a message from a linked channel
Note that unless the user sends a message from a linked channel, no other user actions may remove the badge while the user is viewing the settings.
Prechat Capture
Prechat Capture is an add-on which leverages the form message type and allows you to capture form fields user's (e.g. conversation topic, name or email) before the start of a conversation. This can be useful for routing and or CRM connection.
When enabled, the chat input is disabled and the user is greeted by a welcome message and a form. Once the form is successfully submitted, a thank you message is sent to the user and the conversation is then initialized, connecting the user to your business.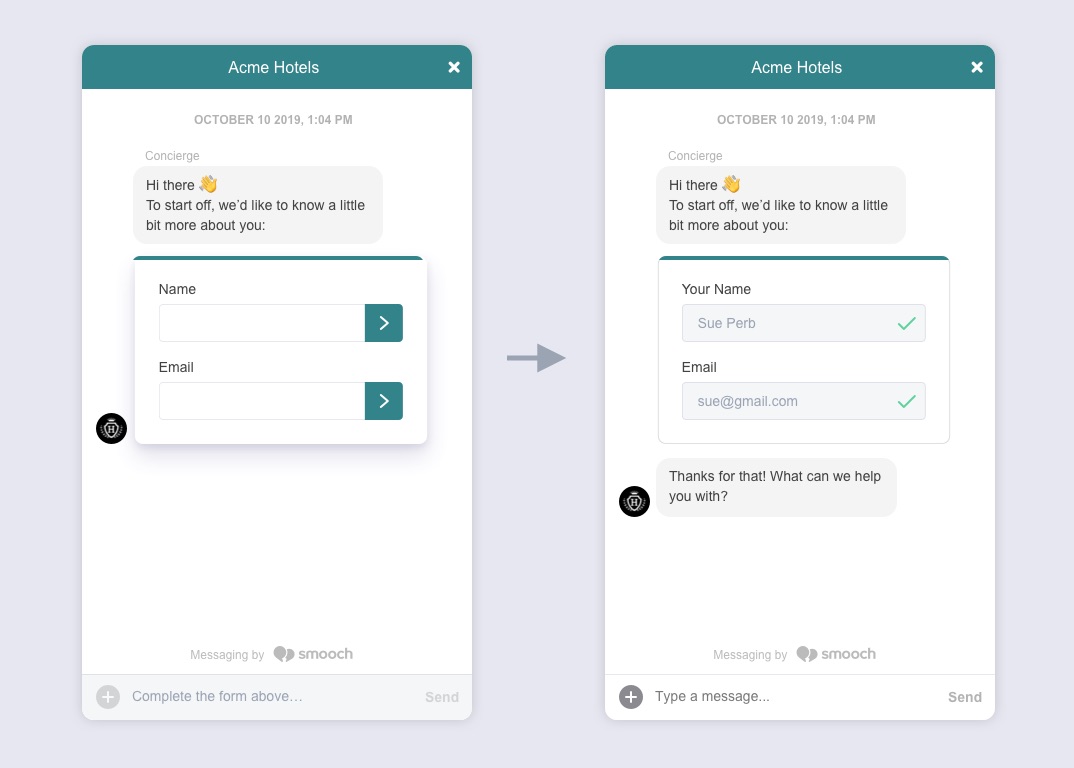 Moving to other channels
The ChatShipper Webwidget allows users to continue a conversation on the messaging app of their choosing. After sending their first message, they will be prompted to be notified inside other apps when they get a reply. This takes pressure off of the business to reply instantly and allows the user to close their browser session without having to worry about missing a response.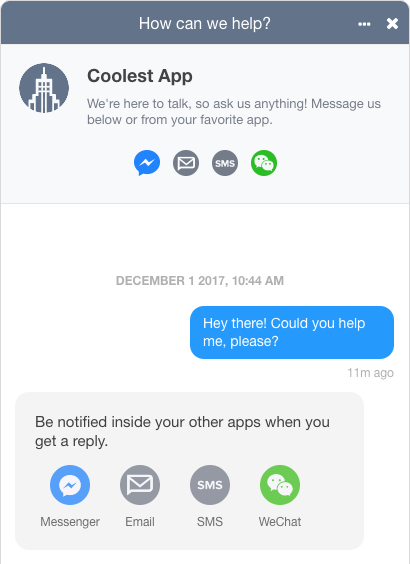 For example, if a user visits your site and would like to close the tab, they can choose to 'Connect' to Messenger. This will connect their conversation to Facebook Messenger and enable notifications there.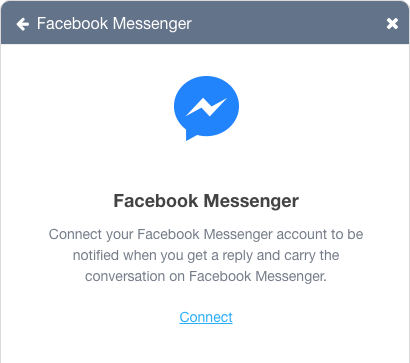 When you reply to your user, ChatShipper will intelligently detect which messaging channel they most recently used and make sure they don't get spammed with push notifications if they elect to be notified on multiple apps.
The current supported list of notifiable channels is as follows:
Facebook Messenger
Twilio
Mailgun
WhatsApp
---
---