Whatsapp non-transactional notifications (templates)
We're pleased to announce that effective immediately, WhatsApp is expanding their trial to allow more types of proactive notification to several new countries.
New: Non-Transactional notifications
This means that businesses will be able to proactively message their opted-in customers with "non-transactional" notifications about product recommendations, relevant offers, helpful information alerts and reminders to book service appointments. 
WhatsApp are expanding the test countries from Indonesia and Mexico to now include the following countries: Singapore, Malaysia, South Africa, United Arab Emirates, Russia, Saudi Arabia, Israel, United Kingdom, Netherlands, Spain, Italy, Germany, Nigeria, Egypt, Brazil, Colombia, Jamaica and USA. The only qualification criteria is that businesses have one of the countries listed above as the country setting in Facebook Business Manager. No additional integration work is needed.
There is no change to the message template creation process through our API or Dashboard and templates will still go through a review process to ensure there are no Commerce or Business Policy violations and that the formatting is correct. See here for additional detail.
We have included some helpful information to get you started below. If you have any follow up questions, then please contact us at care@web1on1.chat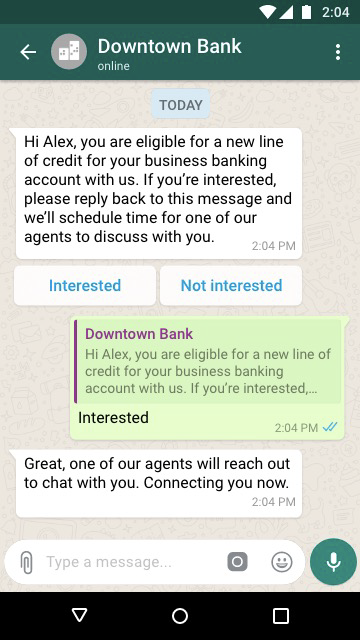 Example use cases for Automotive
Here are some example use cases For Automotive
Airco Summer Check campaign
Winter tires 4 for 3 promotion
Trade-in now, and get Euro 1000 bonus on your car (get estimate now)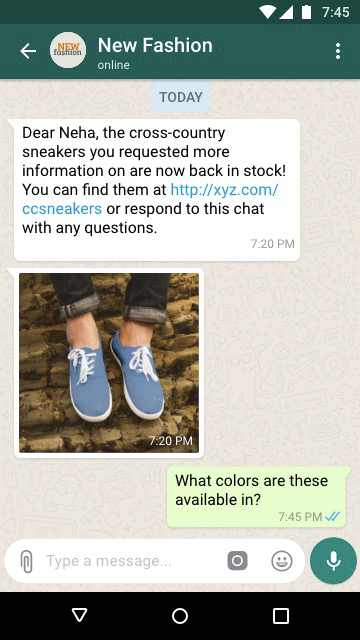 Keep in mind
Businesses should create and send notifications with the below attributes in mind to drive a high-quality user experience:
Expected: People have already opted in to receive this information from the business over WhatsApp so are not surprised when the business messages them
Relevant: The messages are personalized to the specific person (Ex: based on recent purchases or recent engagement with the business, personalized content in the message itself), concise, contain necessary information, and clearly outline any next steps for the person
Timely: People receive these messages when they are relevant 
To ensure these messages are expected, businesses must obtain opt-in in advance of sending any proactive notifications, including non-transactional notifications. WhatsApp's Business Policy outlines the following requirements:
Businesses must clearly state that a person is opting in to receive messages from the business over WhatsApp
Businesses must clearly state the business' name that a person is opting in to receive messages from
Businesses must comply with applicable law 
Best Practices
Additional best practices to create a high-quality opt-in experience:
Users should expect the messages they receive. Set this expectation by:

Obtaining an opt-in that encompasses the different categories of messages that you will send (ex: order updates, relevant offers, product recommendations, etc.)
Obtaining separate opt-in by specific message category
This aligns to WhatsApp's Policy and mitigates the risk of users blocking your business because they receive unsolicited messages

Provide clear instructions for how people can opt out of receiving specific categories of messages and honor these requests
Ensure opt-in and opt-out flows are clear and intuitive for users
Avoid messaging customers too frequently
Clearly communicate the value of receiving these important updates on WhatsApp
USER CONTROLS AND ENFORCEMENT
As a reminder, people are in control when they message with businesses on WhatsApp. People can block or report a business at any time. When people block a business, they also can choose to tell WhatsApp why, such as "Didn't Sign Up". WhatsApp leverage these quality signals to determine the phone number quality rating and when applicable, WhatsApp surface this as feedback to businesses as a potential reason for red (low) or yellow (medium) quality.
WhatsApp take action to limit the reach of low quality messages. WhatsApp may rate limit or automatically remove specific templates if a business's quality is low for a sustained period of time. Over time, WhatsApp may leverage additional quality signals and introduce new types of enforcement to enable high quality conversations between people and businesses using the API.
---
---